"A healthy dose of political incorrectness." (Adventure Gamers)
"Lancelot's Hangover draws a lot of its humor from its unique visuals." (IGM)
"This guy brought back the madness of classic graphic adventure games, Discworld and Monty Python." (Nivel Oculto)
"One of the most sarcastic adventure game I ever played." (GiocoIndie)
"Unique graphic style inspired by medieval manuscripts and abbey beers labels." (IGN France)
"Can't wait to play montypythonesque point'n'click Lancelot's Hangover!" (Pendulo Studios)
"Hilarious!" (HardcoreGamer)
"Monty Python-Esque Humor And Political Incorrectness." (Siliconera)
Presskit

The Quest for the Holy Booze

Monkey Island meets Monty Python's Holy Grail
(in a point-and-click adventure game with an attitude!)
Thank you for your preorder!
Download
free demo!

January 2018
351 Mb - PC Windows only
Genre:
Point and click adventure
Platform:
PC Windows only
Release date:
2018
Language:
English, French
Full price:
€ 9.99
---
What's Lancelot's Hangover?
Monkey Island
meets
Monty Python
's Holy Grail in a silly medieval
point and click
adventure game! With attitude!
You play Lancelot, the sexiest Knight Of the Round Table.
God gave you a noble quest: go find the Holy Grail, put some booze in it and celebrate the biggest party England has ever known!
But the Grail is hidden deep into a dangerous place, where all men are gay and women have hair under their arms: the Kingdom of France!
---

Preorder Lancelot now!
€6 (save 40%)
Steam key and DRM-free version of the game.
Your name in the credits
Release in 2018
PC Windows only
---

Limited DVD-box!
€50
Only 99 copies available (55% already sold)
Signed by Jean-Baptiste, the creator of Lancelot's Hangover
Impress the girls with the exclusive retro-DRM code wheel (yes, like in Monkey Island!)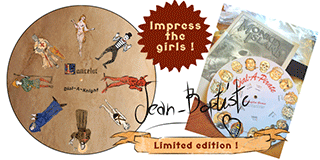 Your name in the credits
Release in 2018
PC Windows only
---
What's unique about the game?
It's 1992 point and click humor in a today gaming experience (with 1080p VGA graphics!)
All the art, animations, story, dialogs, code made by one single guy (who's high on drugs 14 hours a day!)
You play a sexy half-naked knight!
The game fits in only 154 floppy disks! Wow!
---
Who's Jean-Baptiste de Clerfayt, Lancelot's Hangover solo dev?
Played most LucasArts and Sierra games without paying them when he was a teen
Studied visual arts and computer coding
Tried to get Peace Nobel Prize for fun
Wrote funny reviews in a Belgian rock magazine
Wrote some sketches for Belgian TV and radio
Published a very silly book in France
Worked as a graphic designer for the official Belgian Catholic Church (seems weird, but it is very true)
Can touch his nose with his tongue when he's drunk